There is no doubt about it; I travel light.  When I travel long term, I use my Osprey Farpoint 55 backpack to carry all my worldly possessions (and my electronics take up most of the day bag). I never had any problems with "having too much stuff"; maybe I had to sit on it to close it the odd time, but that was manageable.
I use the same bag for my shorter trips as well. It's comfortable, lightweight and its size means it is suitable to carry on board.
I like to think of myself as someone who is not materialistic so I generally have few issues working out what to leave at home.
As everyone seems to be doing some sort of spring cleaning currently (well, it is that time of the year…), I will share with you how to travel light… the Sarah way.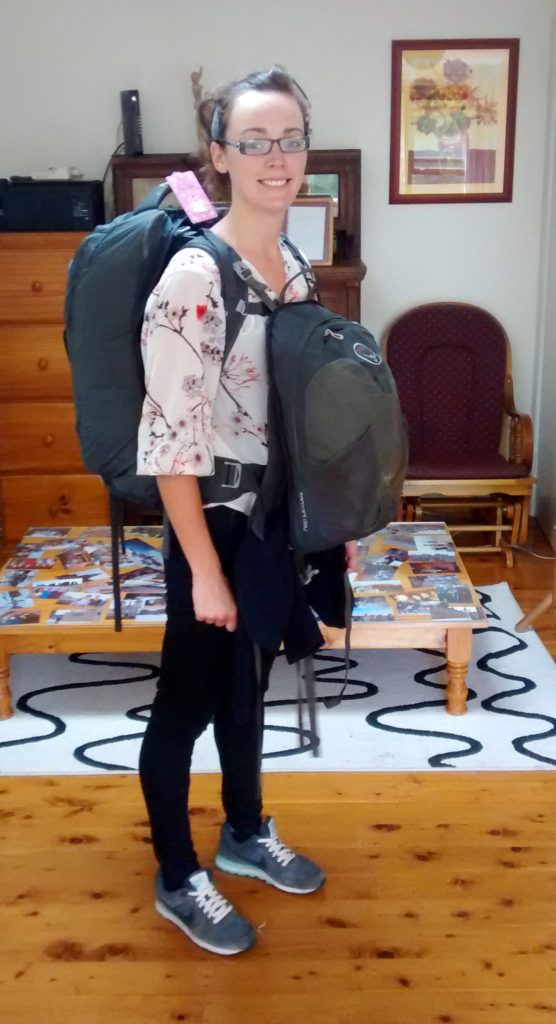 1. Ban the book
I feel dirty writing this; I pride myself on being a person that reads real books on real paper. Except when I'm on the move.
Hard copies take up a silly amount of space in a bag and they aren't something you can squish in around things. When I am on the road, I use my Kindle Paperwhite for everything including Lonely Planet guides.
2. Watch what you wear.
On travel days I mean, especially if it is a long-term trip. To save on space and weight in my bag, I generally wear bulkier clothes on these days. I am definitely not someone who lives in their flip-flops; I prefer to spend travel days in my trainers.
My top tip is to wear a long sleeved top on travel days (I wear one that is loose fitted) as I always found bag straps dig into me when I wear vest tops.
3. Do you really need that?
My Mum got a free bag from Kenco in the post and thought she would bring this on a weekend trip she is taking (carry on).
"What will you put in it? What will you use it for?"
"I don't know."
"Leave it at home."
That was her told but it is something that we all need to be reminded of.  Make a note of all the things that come home unused from a trip and make sure you leave them behind next time.
4. You can wash your clothes when you're away
There's no need to pack 400 pairs of underwear (although, what happens if you do get hit by a bus?) or 20 black vest tops. If you use Airbnb , there will be facilities you can make use of. Hotels have a laundry, but if you're super tight like me, you could always wash your clothes by hand each day.
Yes, I was too cheap to use Thai laundries. I was happy to carry a sandwich bag (or two) of laundry powder and use it. Drying time was minutes!
If you're not travelling long term, I allow you to bring an extra pair of underwear and socks, just in case.
5. Shoes
How many pairs of shoes does one person need? Actually, I'm definitely not the person to ask as I have a wardrobe full of them and I think you should always need another pair.
Except when you travel. Generally, shoes are chunky, take up a lot of space and weigh more, so bring as few as possible. I tend to travel with a pair of trainers and one pair of flat shoes. If I am in sunny climates, the flip-flops get an outing as well.
6. Let's talk about towels
This will only apply to those who travel on a budget, staying in hostels that may not supply towels. I see so many travellers with large bath towels; this takes up a crazy amount of  space in the precious backpack.
I combat this by using my wonderful microfibre towels. They are lightweight, fit into small gaps and can be used to protect other packed items. I went all out; I bought two. One bath towel and one hand towel.
7. They have shops in other countries
I know. Madness. It's something we don't think of when we pack. Yes, you may need your umbrella for your Paris trip in August. You might. You probably won't. If you happen to need one, Paris stocks them.
These "what if" items can load down your bag and be a general burden to cart around, so leave them at home. If you do need another umbrella, there is no harm in purchasing one when you're away; who can have too many umbrellas? (No one… except when you're on the road)
8. Ooooh, toiletries
This one is tricky, as so many toiletries are deemed necessary to people.  Especially people that love their makeup (I don't wear any, so I guess my bag is already lighter). Again, don't use the "what if" and take what you use on a daily basis and halve it (just kidding, but seriously….cut down).
Another way to cut down on space is to buy solid shampoo and conditioner. Sounds insane, but they work and they work well. Another tip for the ladies: Ditch the tampons for a Mooncup – I'll let Lucy indulge you on that one.
9. Get a bag that is carry on size.
A very basic tip, but one that saves space and hassle. My trusty backpack is carry on size and I would advise everyone to do the same. Not only do you save cash when flying on a budget airline but you don't have the annoyance of waiting in baggage reclaim for a bag that you fear will never come.
I find travelling carry on to be amazing; no matter how long it takes me to get off the plane, I am always one of the first few passengers exiting the airport. Bliss.
How much of a packing guru? Do you have any tips to packing light?