My biggest fear as a child was dogs. It was not the most manageable fear, especially as I grew up in a rural area and each family seemed to have at least one. I would sit in the car while Mum visited a friend and my friend's parents knew not to let the family dogs anywhere near me.
I have grown out of my fear and fallen for dogs completely. I bonded with my cousin's dog Brody, and realised how much personality each dog has. Being a big dog lover now, I was delighted when Shannon asked me to come to the Salty Dog Show with her.
Shannon has a seven month old puppy, Pepper who is a cross between a Pug and a Shih Tzu. She is more friendly than any human I have met and she definitely made herself known at the show. The Salty Dog show was held in The Salty Dog in Bangor, Co. Down – a dog friendly bar/restaurant. The show was hosted by Assisi Animal Sanctuary,  an animal welfare charity with a rescue centre in Newtownards.
The competition included sections such as 'Best Rescue Story', 'Dog who looks most like their owner' and 'Dog the judge is most likely to take home'.  Pepper was entered into 'Cutest Puppy' and 'Waggiest Tail'.
As demonstrated, Pepper was rather boisterous . Sadly, she did not win any prizes. To help deal with this, we decided to have a snack in the bar/restaurant. The Salty Dog was thriving – it was full of dogs and their human companions. The dogs were mostly on their best behaviour. If they were not, they were discreetly told that they would have to leave as there were customers in the restaurant that were not attending the dog show.
It was a Sunday afternoon, which usually means a roast dinner. I didn't feel like a large meal, so we decided to order from the starter menu. Shannon ordered Battered Squid, I had some Chicken Goujons and we shared a portion of chips. Shannon enjoyed a large portion of squid and my goujons were brilliant – made even better by a double portion of garlic mayonnaise.  There were no dog bowls for Pepper as all were being used by other pooches. Pepper happily ate from Shannon's hand. When the bill arrived, some extra drinks had been added on (the table hadn't been cleared when we sat down), but this was quickly rectified.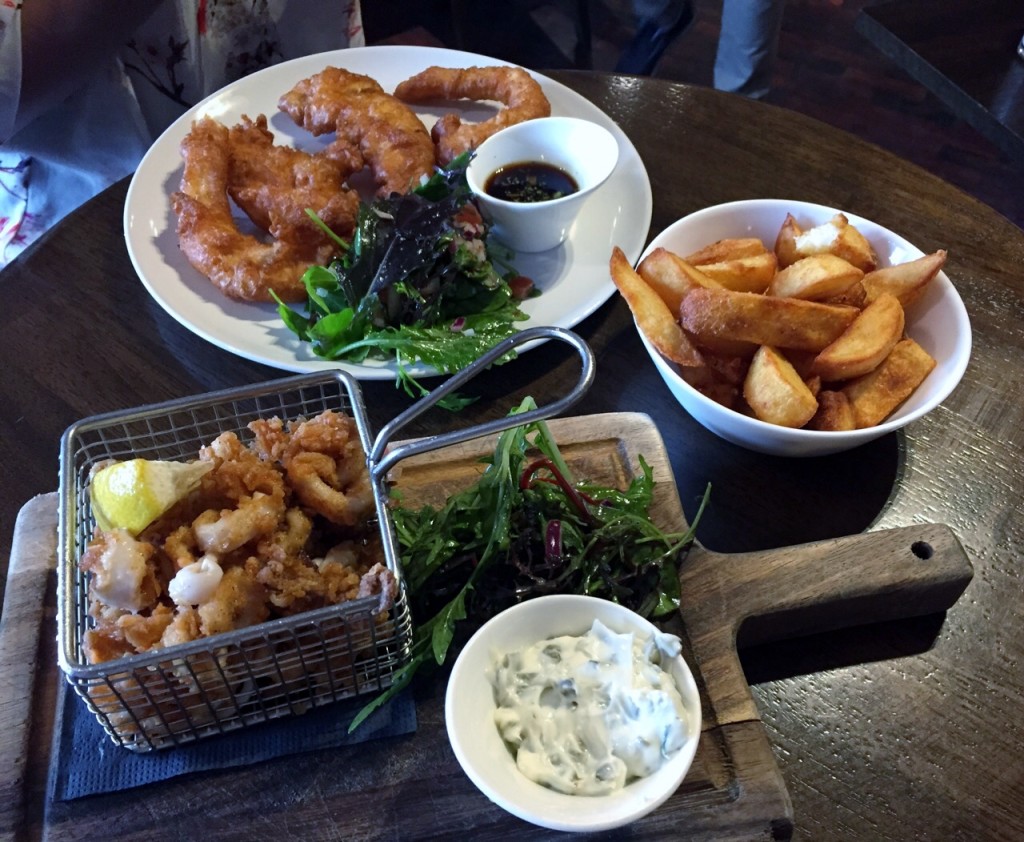 Afterwards, we went for a short stroll along the water edge. Pepper was starting to show her tiredness, so we decided to call it a day. I enjoyed my time at the dog show (apart from Pepper coming home empty handed) and the great food was a wonderful addition to the day. I'd love to go back to the Salty Dog (with Pepper obviously) on a quieter day when it's possible to spend longer there and relax.
Practical Information
The Salty Dog Hotel & Bistro, 10-12 Seacliff Road, Bangor, Co.Down, Northern Ireland
Telephone: 028 9127 0696
Email: info@saltydogbangor.com
Website: http://saltydogbangor.com/
Where is your favourite cafe/restaurant to take your dog? Are there any other dog shows I should know about?