If you follow me on Twitter, you may have noticed my usual Saturday morning tweet, "Off to do @parkrunUK at _______ #loveparkrun". I wake up each Saturday morning excited and enthused to go to parkrun.
It made sense that I attend the inaugural Stormont parkrun in east Belfast. The idea of a Stormont parkrun belongs to Mel Boyle working  with the estate management to ensure all runners could make use of the grounds each Saturday morning.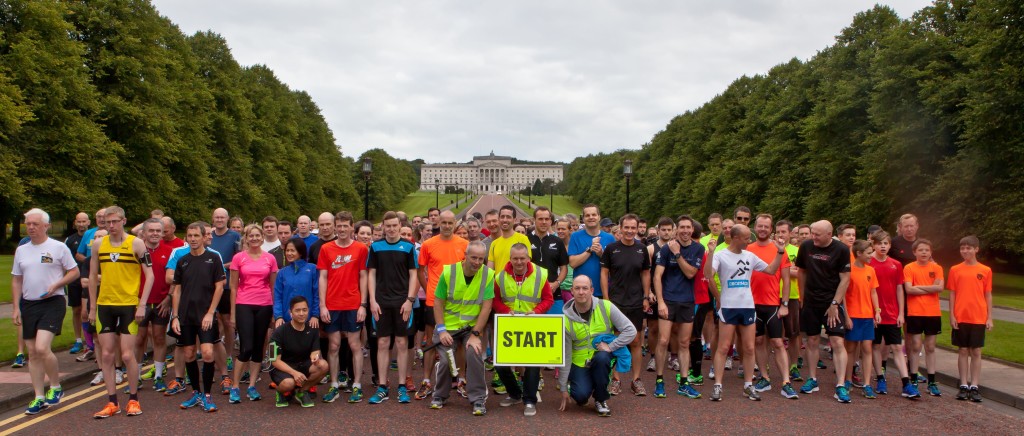 Stormont parkrun
When anyone thinks of running around Stormont, the first thought is generally of the mile long hill up Prince of Wales Avenue; it was certainly mine. The large hill is not included in the parkrun route, and it begins on the beautifully flat section of the avenue.
The run continues to the estate gates and takes a turn to the right into a forest. This section is hillier than most parkruns, however, it is only slightly challenging and nothing compared to the hill that could be in the run. After exiting the forest the same way you enter, the route continues through to the other side of the estate. There is one hill but the children who marshalled here were a great encouragement to each runner passing.
Stormont is a great opportunity to work on a perfect sprint finish. The run finishes at the estate gates, and the flat part of Prince of Wales Avenue is great for building up speed at the end. It was great to see almost 250 people take part; even some MLAs and local councillors turned up to show their support.
My parkrun story has been very positive. As I ran Stormont parkrun, I was running 5k in around 26 minutes. The week before, I ran Victoria parkrun (in my opinion the flattest and the PB course of Northern Ireland) in 25:22, my new personal best. I found the Stormont course challenging, but I thoroughly enjoyed it, chatting to fellow runners along the way. I clocked a time of 26:25. I was disappointed it was not below 26, but it gives me an excuse to go back and beat it (Spoiler: I now run under 24 minutes).
Stormont is a challenging run but thoroughly enjoyable. Mel had a great idea and went for it. His fabulous team of volunteers helped make it happen. It isn't every day that you get a timed run around government buildings, but it does happen every Saturday!
What is your parkrun story? Have you run Stormont parkrun?