I often find myself trawling websites for activities to do at the weekends. On one of my searches, I noticed a 'Roxy Surf and Yoga Day' at Troggs Surf School, Portrush. I didn't think much before signing up except for a quick email to the instructor Carl to make sure I was able to complete my regular Saturday morning 5k parkrun at Portrush before the event. He said that would fit in with the programme and I was sold. It was not a difficult sell.
It was officially a surf lesson however Carl gave the option of a surf lesson or a SUP lesson – that is a Stand Up Paddleboard lesson for any of you non-water babies.  I had every intention of learning SUP when travelling in Thailand and  I even thought I could be a yoga master on a SUP. I would love to learn to surf, however, I am more eager about SUP currently.
The drive to Portrush from Belfast was relatively swift. There was a slight diversion and I panicked, thinking I would be  late for parkrun but I arrived half an hour before the run began. Post parkrun, I went straight to the surf school and met Twitter buddy, Leah. She was surfing along with most of the other ladies. I joined five other girls for Carl's SUP lesson.
Our first stop was to get a wetsuit. The last time I was in the sea was off the coast of Koh Tao, Thailand. I was diving up to 30 metres deep and still did not need a wetsuit. For those who may not be sure, the waters surrounding Thailand are warmer than those of the north Atlantic encasing Portrush.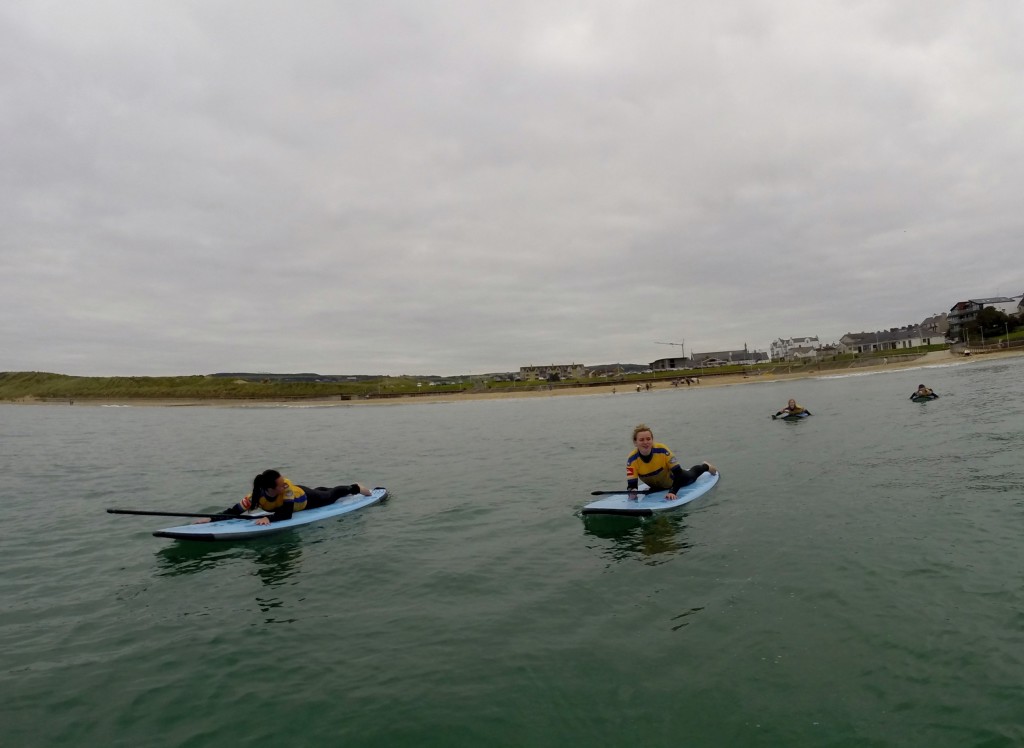 I realised how weak I am when I carried my board to the shore. All the other girls were marching down effortlessly while I was struggling to drag the board along the sand. Before entering the water, Carl gave us an introduction to SUP, explaining the parts of the paddle and board. We were all keen to get in and put his words into practice. Thankfully Carl brought his GoPro camera and was able to document our attempts at paddle boarding.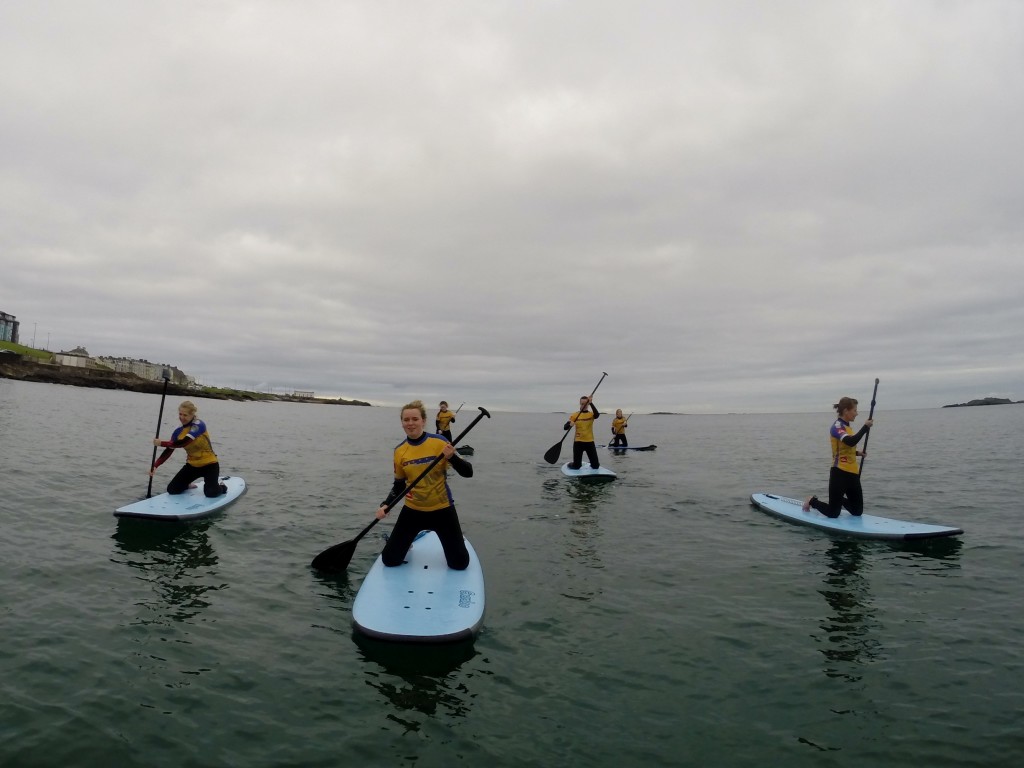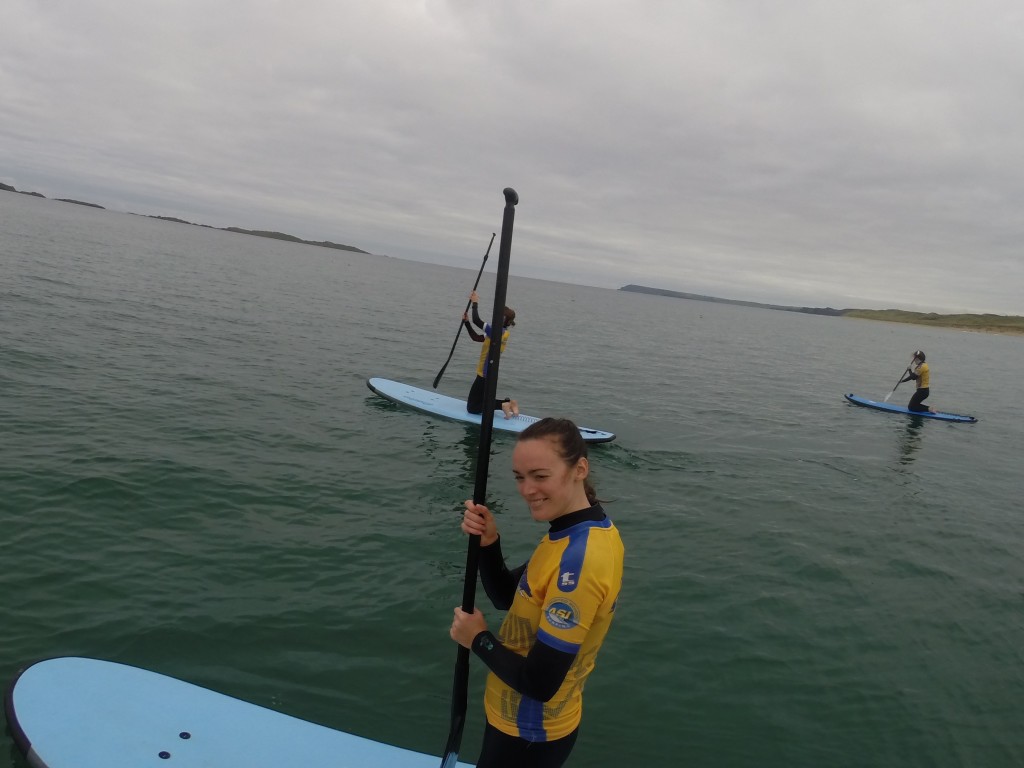 Before standing on the board, we had to crawl or paddle on our knees. I was feeling like a SUP master at this point and was keen to get on my feet.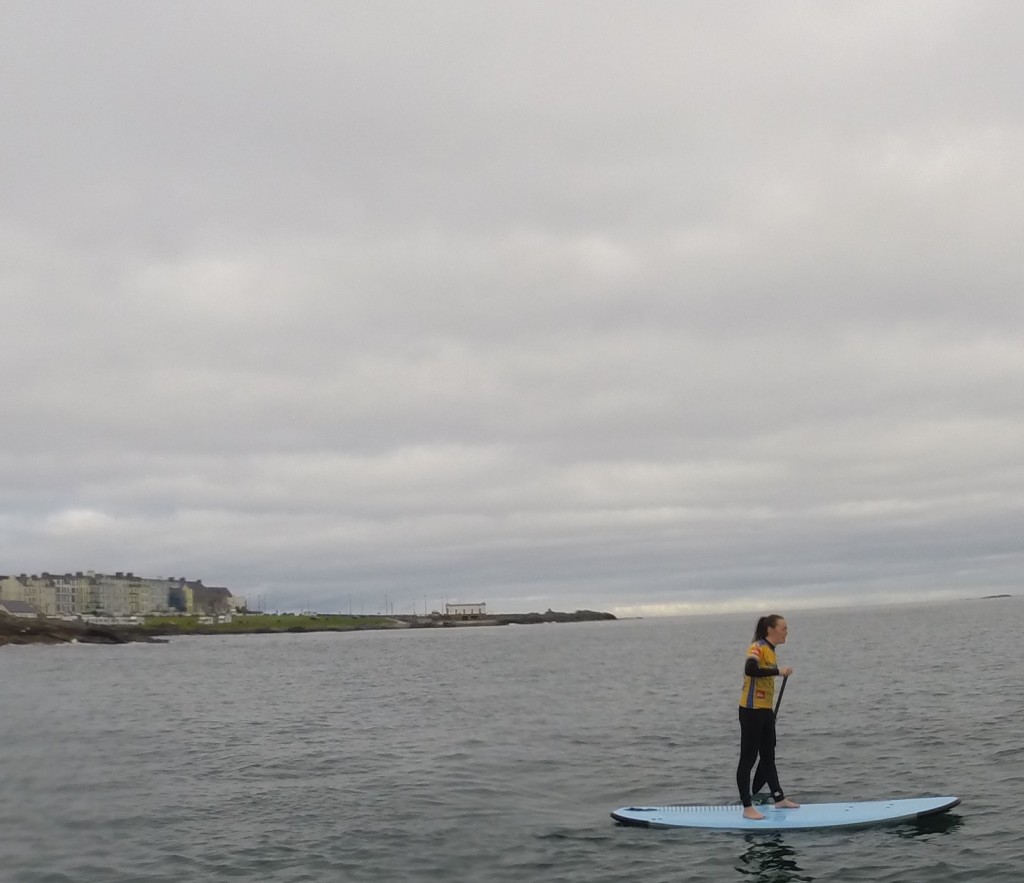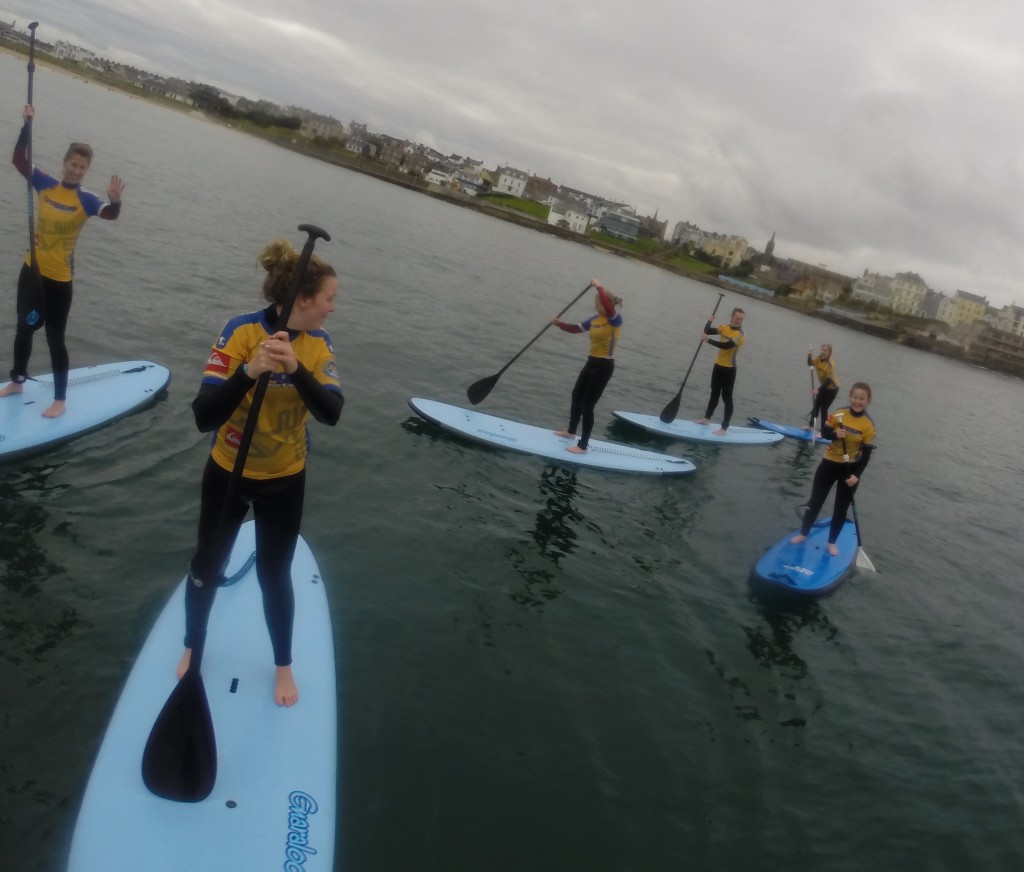 When I did stand up, I found my mind was not trusting my body to stay on my feet. I loved paddling through the Atlantic (I contemplated making a break for Scotland at one point) and I was gaining confidence all the time. As I was paddling, there were some epic (accidental) dives into the water by some of the other girls. It was a great laugh, but they all made it back onto their boards and onto their feet again quickly.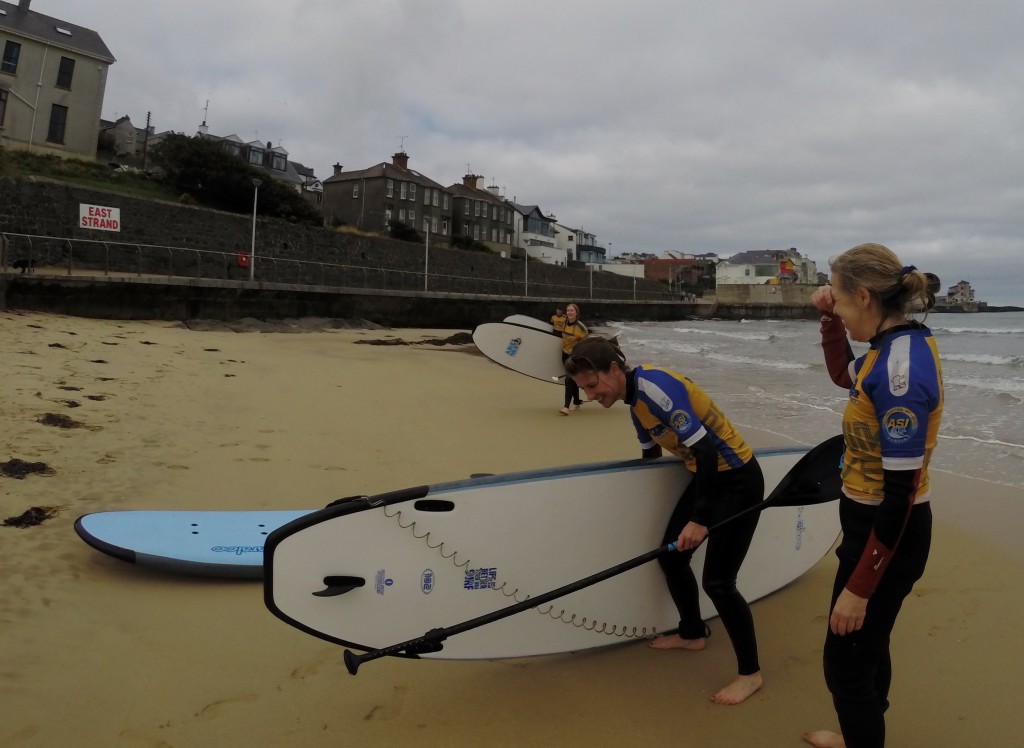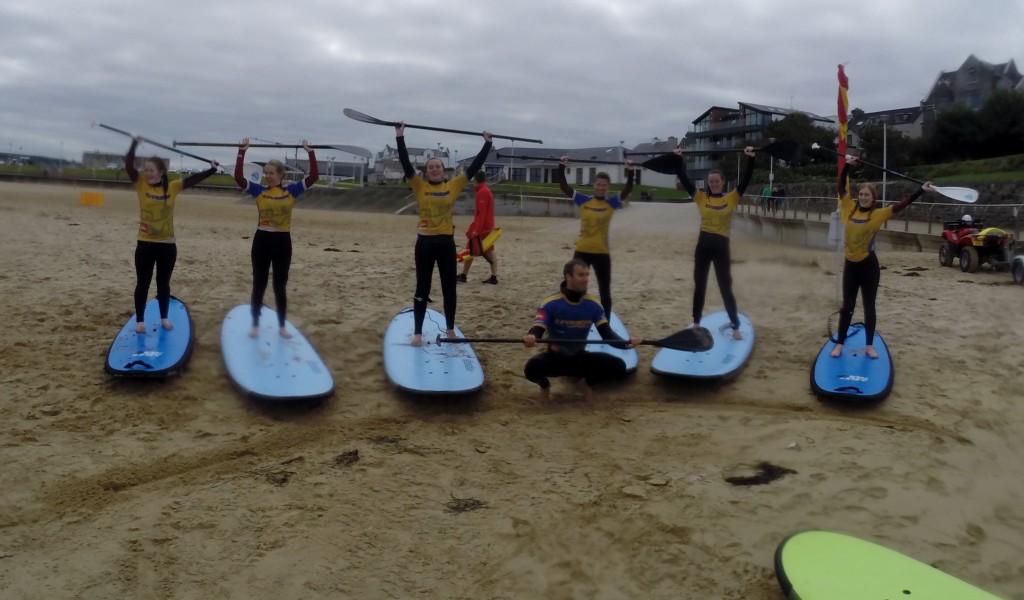 The lesson flew by and we were soon back at shore. After a shower and getting into our yoga clothes, it was off to the Arcadia Cafe for some lunch. A panini and drink were included as part of our day package. I was absolutely shattered at this point and needed an extra coffee to pick me up. After lunch, there was time to kill before yoga so I went for a walk up the town with my new friends Amber and Gemma.  By the way, Gemma was a bridesmaid for one of my friends last year – what a small world Northern Ireland is!  While in 'Pets at the Port', we had the bright idea to go for (another) coffee at everyone's favourite coffee shop, Ground Espresso Bars. I may have had one of their heated salted caramel brownies. Maybe.
We waddled back to the Arcadia for the yoga lesson. Here we spent an hour contorting ourselves into some strange positions and I stretched muscles I had not stretched in a long time. As with any yoga class, I spend some time giggling, mostly down to my terrible balance. If the instructor suggested extending the stretch, I accepted the challenge which sometimes resulted in me falling over.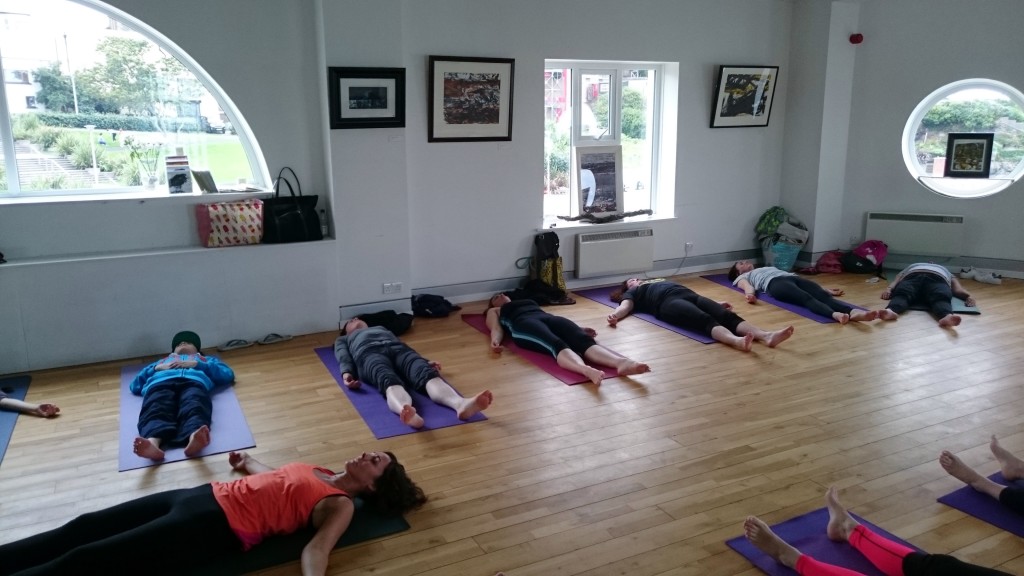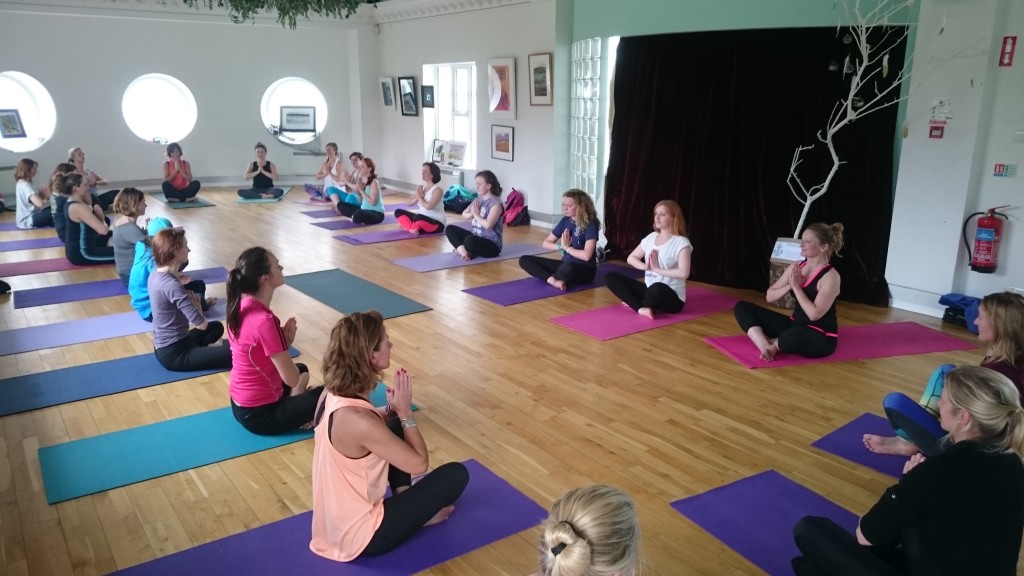 When the yoga class finished, Carl played Santa and arrived with our Roxy goodie bags. Leah made her way through to the front and nabbed a bag she had been looking at online recently. I loitered at the back and received a Roxy backpack (which was good timing as my other Roxy bag has grown holes after years of use).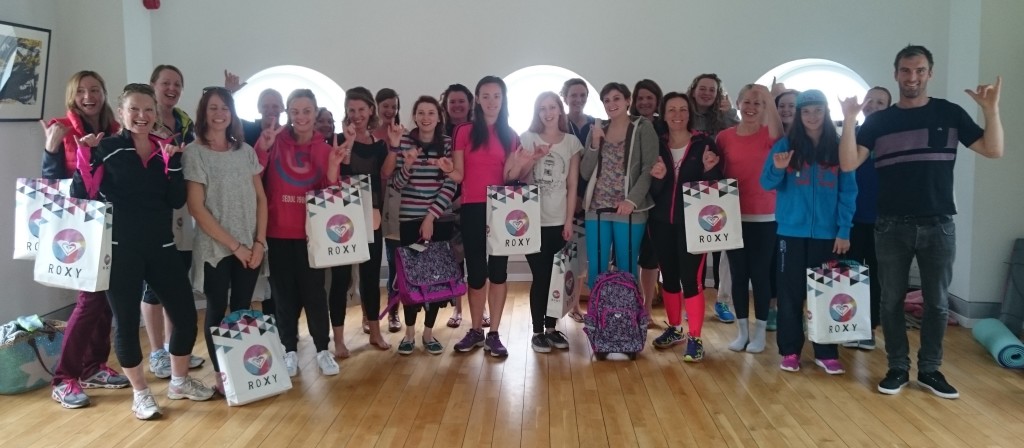 The day was not over yet. Downstairs in the Arcadia, there was coffee and a choice between carrot cake and lemon drizzle cake. I am not a believer in mixing vegetables and cake which means I did not have a big cake-related decision.  I  hate making decisions over cake.  I like cake. Coffee and cake were a perfect way to finish an exercise filled day.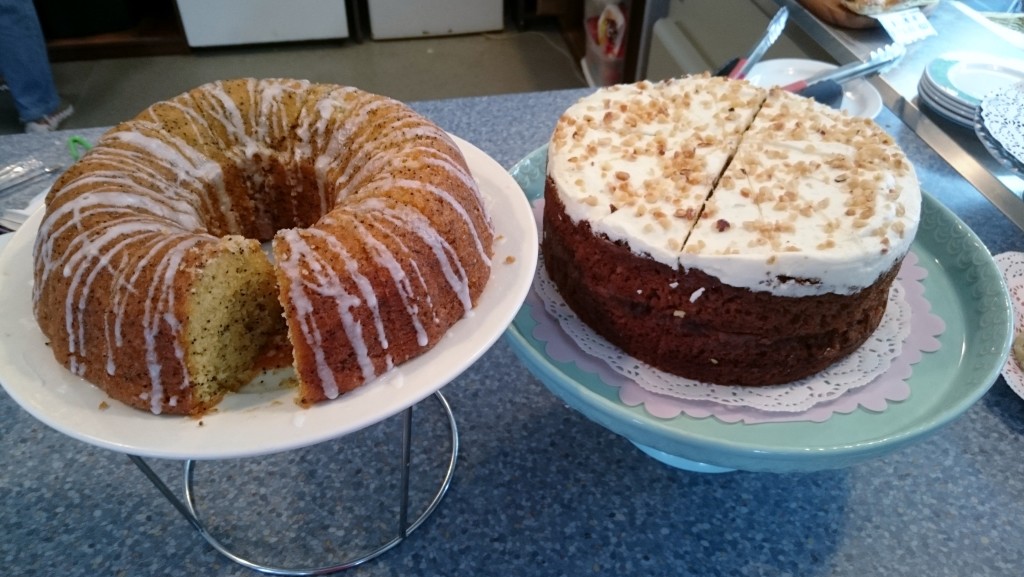 I had a brilliant day in Portrush. Carl was a wonderful instructor and did not laugh (too much) when we had a stumble or fell into the water. Somehow I managed to stay on my feet the whole time, not even getting my hair wet. I loved having an active Saturday and it was great sharing this with a wonderful group of ladies (the only men around were our instructors). I will be keeping an eye out for the next Roxy day!
Practical Information:
Troggs Surf School Office & Meeting Point, North Coast Watersports Centre, East Strand. Portrush, BT56 8AN
Telephone: 028 70 822 335
Website: http://www.troggssurfschool.com/
**Photographs were taken by my fantastic instructor Carl. Thanks, Carl!**