Exposed walls. Check.  Drinks served in mason jars. Check. Kitchen roll on the table. Check. Three key ingredients for a hipster paradise and Bootleggers has it all.
What type(s) of food would a place called Bootleggers sell? The name doesn't give anything away. It's American/Mexican, I think.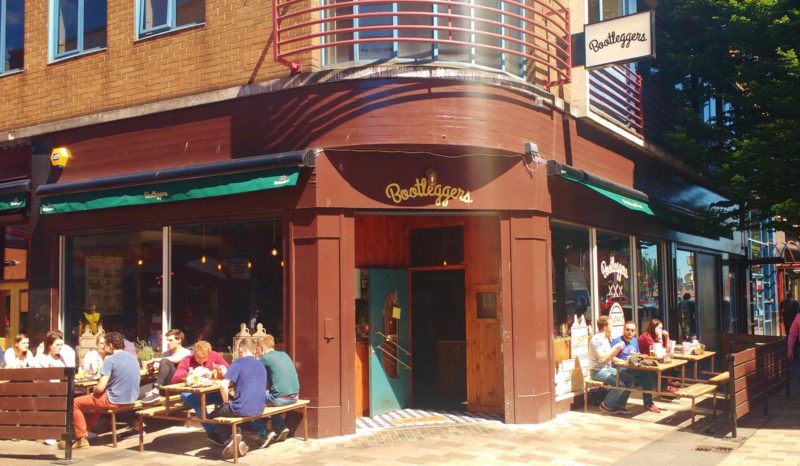 I ended up trying out Bootleggers with Bex  on a day when we were not able to decide where we wanted to eat. Like many other great friends who share a love for eating (I suppose that's most humans then), we have a list the length of our arms of places we want to eat in Belfast and Northern Ireland generally. Seriously, Bex has the list on her phone.
Yet on that day, each restaurant on the list we either shrugged our shoulders at or decided we were not in the mood for their cuisine. So, our aimless wandering began.
We walked along Fountain Street onto Castle Street before pacing along both High and Ann streets. Nothing was catching our eyes. This wasn't like us. When we're hungry, we may be indecisive but we aren't ones for pondering too long on what is for dinner.
As I was giving up hope and was about to give Bex that look that between us means "let's go and stuff our faces with the high-quality food of the Golden Arches", I saw a sign that read 'Mexican Mondays'.
I was sold.
It wasn't Monday, but I was sold.
It was all I expected from a hipster paradise and more. We walked in and saw the menu behind the bar, leading to the age-old panic you feel when arriving at a restaurant and you're not immediately greeted. Where do I go? Do I take a seat? Do I run to the bar and quickly order before reading the menu? Will my indecisiveness cause a queue at the bar? BUCKFAST IN A BRAMBLE?
This confusion lasted longer than it was in any way comfortable for me and made worse when we were given a choice of tables to sit at.  Choose for me, my mind is exhausted. Ohhhhh, kitchen roll at the table.
Yes, I like how these modern (and when I say modern, I mean hipster obviously) eateries place kitchen roll on the table. No need for fancy napkins but plain kitchen roll. Plus, supply is (almost) bottomless. I promise I am not one of those people who take extra napkins from KFC so they don't have to buy kitchen roll at home.
We were reading the menus when I discovered again that Bootleggers were tampering with their drinks. I say tampering because that's the only word for it. I say tampering because Buckfast can't improve a classic recipe. Anyway, I wasn't willing to try it.
I decided to play safe and get water. As expected it came in a mason jar with a fake, half torn sticker for 'corn whiskey'. The straw sent shivers down my spine. I thought back to the days when I would dine in a 'modern' restaurant and my drink came with a straw. A straw made of paper, that if you took more than four sips, there would be more paper than liquid in your mouth.
Bootleggers, I am happy to report have clocked on to this issue and have reverted back to old fashioned straws disguised as hipster straws.
After the excitement of the mason jars and the turmoil of the Buckfast ruining everything, Bex and I managed to look at the menu and pull an order together.
Bex was feeling excitable and opted for two options from the starter and sharing dishes, 'Mac & Cheese Balls' and 'Pork Belly Bites'.  I did what I always do when it's on the menu and tried the nachos with chilli.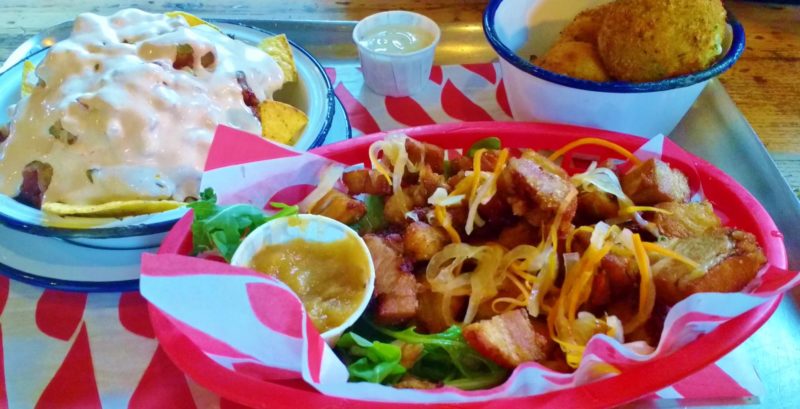 I got scared when they arrived smothered in sour cream. I'm all about the salsa when it comes to nachos and sour cream is a recent addition to my diet. It turned out to be a light drizzle on top of the chilli. The chilli was well suited to me. Not burn your mouth off but not flavourless; a happy medium. I even shared with Bex, if only momentarily.
Meanwhile, Bex looked like she was enjoying her dishes. The bite-size pork belly whets the appetite (I managed to sneak a bite or two). The mac and cheese balls were crunchy on the outside while soft and creamy on the inside.
I have a confession to make.
Yes, Bootleggers is a place where everything is done ironically but you know what? I like it. I enjoy the hipsterness. I love kitchen roll on my table; it's what I use when I'm eating nachos at home. Why not drink out of a mason jar? I love having spare cutlery in a box on my table; I'm a messy pup and it means I don't have to ask for more.
So, I'm embracing my inner hipster and I suggest you give Bootleggers a try and do the same. There's burgers aplenty and the nachos come with The Sarah Story's stamp of approval.
Practical Information
Address: 46 Church Lane, Belfast, BT1 4QN
Telephone: 028 9023 3282           Email: info@bootleggersbelfast.com
Website: http://bootleggersbelfast.com/