I never win anything. As a child, I won a book in 'Girl Talk' magazine –  as a runner up. This changed dramatically with Twitter competitions. I have won coffee from Belfast Coffee Co.,  tickets to see The Sound of Music at the Grand Opera House and most recently, an award winning breakfast at St. George's Market Bar and Grill.
St. George's Market Bar and grill is located within the market, on the upper level. As you enjoy your meal, it's possible to watch the hustle and bustle of the trading below.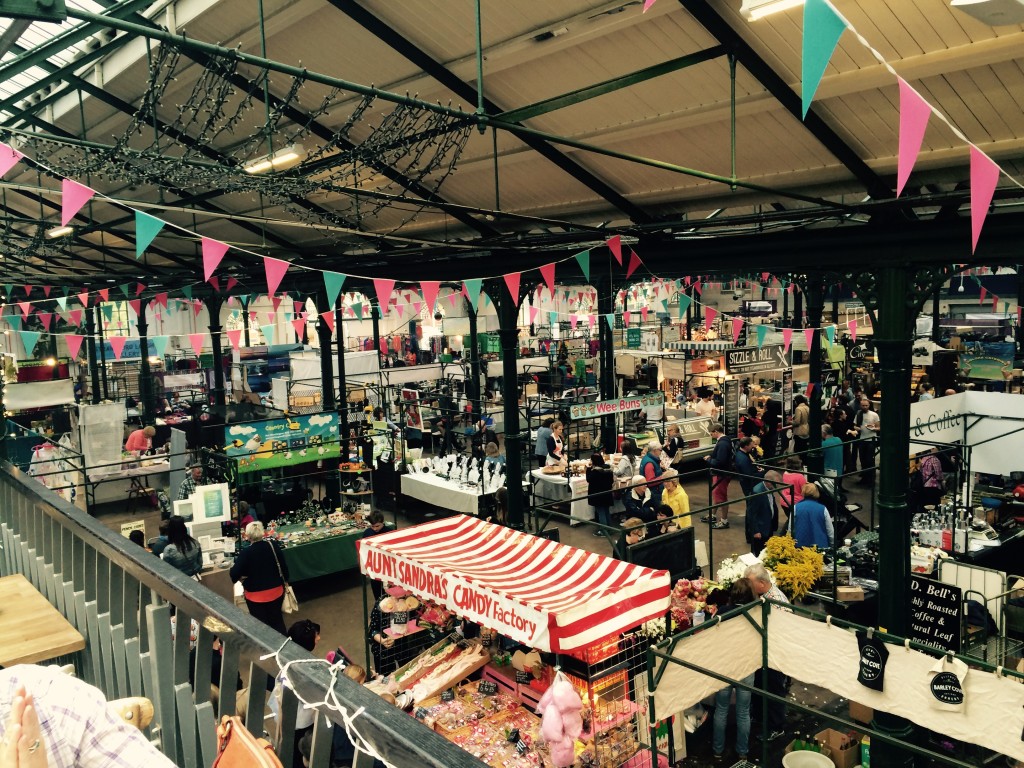 The prize consisted of breakfast and drinks for two.  Instead of keeping things simple, I invited two friends from Twitter, Nichola and Kachela. Kachela is currently a football widow, so her two little ones, Luca and Tahlia came along for breakfast with the "grown ups".
It was the first time I met Kachela, so we all had a lot to talk about. We ordered a variety of different breakfast dishes. Nichola and I went for the award winning breakfast, Kachela opted for the vegetarian breakfast, Luca went for bacon and maple syrup pancakes with Tahila having her pancakes with banana.
The breakfast at St. George's Market Bar and Grill has been voted as the best in Northern Ireland. It is easy to see why. The Best of the Market breakfast consists of: two pork and dulse sausages, bacon, egg, soda bread, potato bread, Clonakilty black pudding, vegetable roll and baked tomato.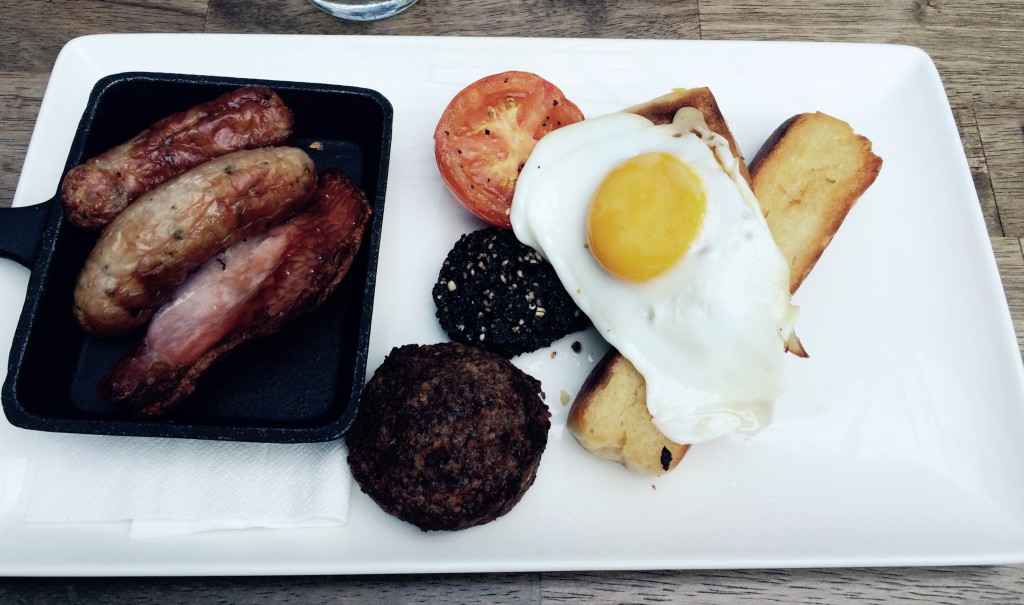 Those not familiar with a Northern Irish breakfast will wonder what some items listed in this meal are. They are as follows:
Dulse – a local delicacy; a type of seaweed
Soda bread – a quick bread made using buttermilk.  Baking soda is the rising agent. Most recently seen in the Great British Bake Off as a signature bake
Potato bread – the name gives it away; it is bread made using potatoes. There is still an element of flour, but it is greatly reduced
Black pudding – a blood sausage (usually from a pig) blended with oatmeal
Vegetable roll – minced meat mixed with celery, onion and leek
In all my years of living and eating in Northern Ireland, this was the first time I had eaten vegetable roll with breakfast. Believe it or not, I used to think it was a vegetarian dish, even though I was purchasing it directly from the butcher. I frequently have it for lunch, but this was a first and it works perfectly.
Black pudding is something I generally don't enjoy on a fry. I find it too rich, but I don't want to let the nation down and I pretend to enjoy eating it. That changed at St. George's Market Bar and Grill. They use Clonakilty black pudding. It blended well with the other elements of the dish and I ate it all.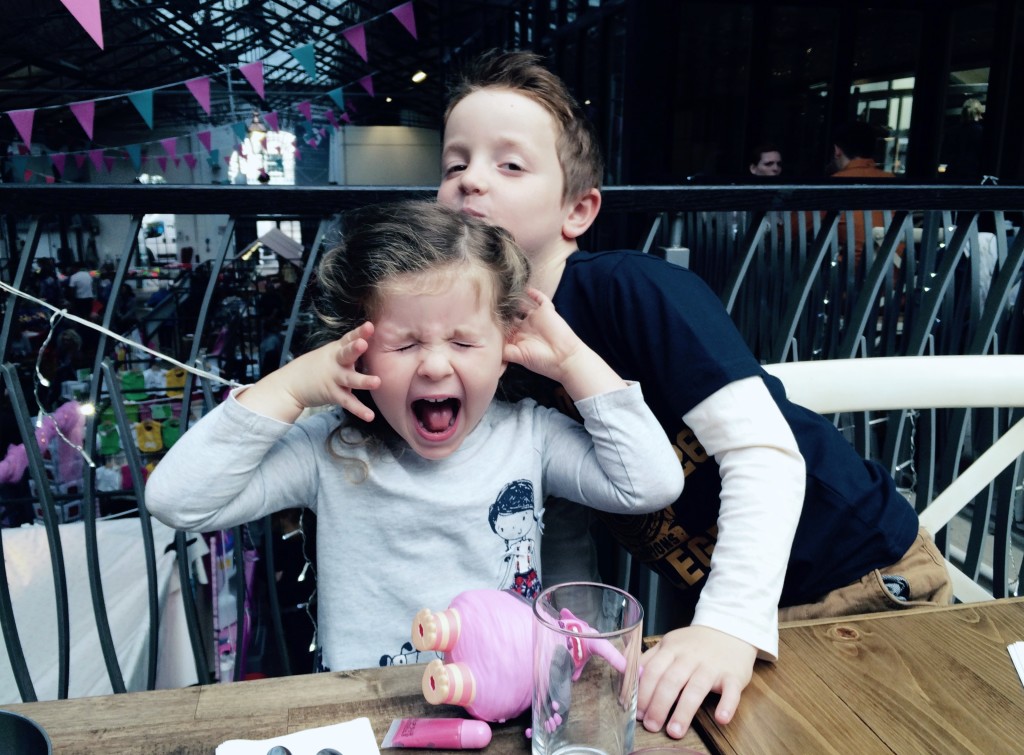 Another special aspect to St. George's Market Bar and Grill is that the chefs source as much produce from the market itself – they like to keep things local.
I certainly see why this breakfast is deemed to be the best in Northern Ireland. The food is fantastic and it is great to sit on the balcony and soak in the atmosphere. It was brilliant to have a gossip with Kachela and Nichola. The children were in great form as well.  A visit for breakfast would not be complete without a stroll around the market. As always, I purchased too much and spent the afternoon like a beached whale. Top tip: It is possible to fit a large box of Doughzy Donuts into the front basket of a Belfast Bike.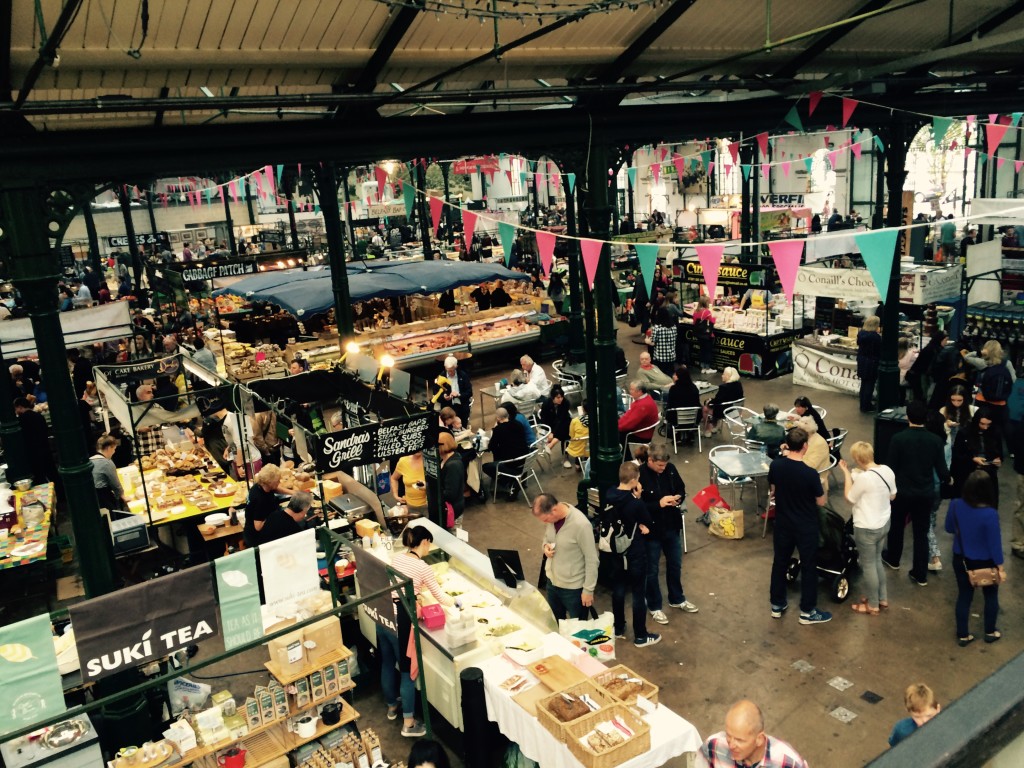 I had a wonderful morning at St. George's Market. The breakfast was tasty, the atmosphere was buzzing and I had the best company. I look forward to more weekend visits to the market.
Practical Information:
St Georges Market Bar & Grill, 1st Floor, St. George's Market, Oxford St, Belfast, BT1 4FG
Telephone: 028 9024 0014
Email: info@stgeorgesbargrill.com  Website: http://stgeorgesbargrill.com/
Prices:
Burgers: £4.00 – £8.00
Coffee/Tea: £2.00 – £3.00
**Photographs were taken by the amazing Nichola. She has two websites, here and here**