Today I have the amazing Lucy from Wanderluce talking about cake in London. 
When I wake up in the morning, my first thought is of food. It's the same when I go to bed at night and most of the day too. To be brutally honest, thoughts of food punctuate most of my day, and my mind will fight any other thought vying for my attention. Food comes first.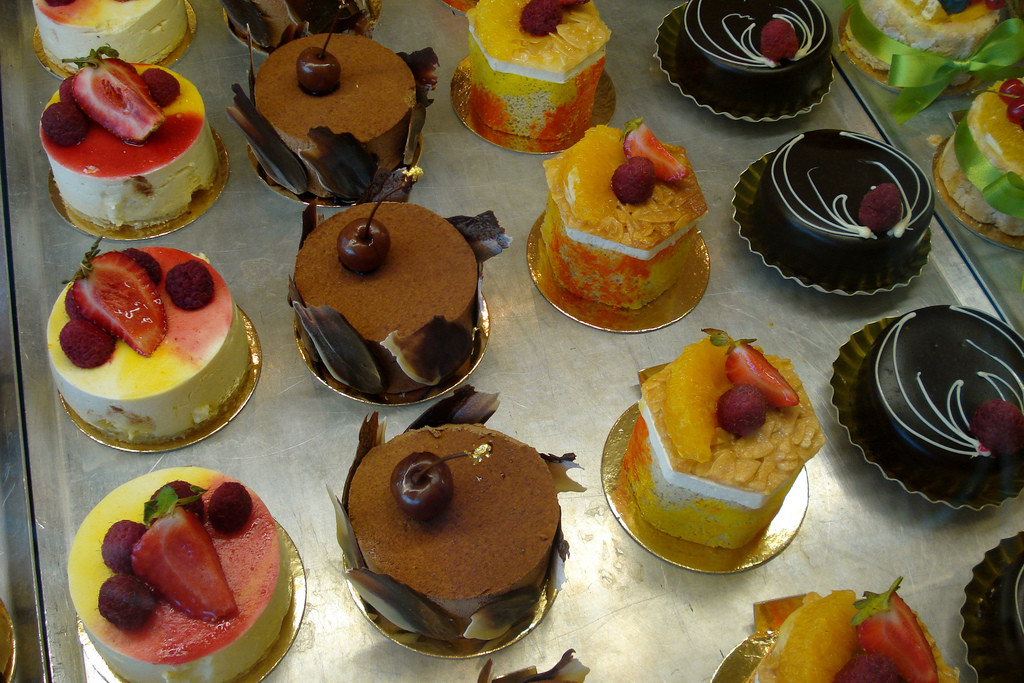 I think it might just be one of the reasons that I like Sarah — her love for food — specifically, her love for cake! When I plan a trip anywhere, I first think about the food, and as one of the most visited cities in the World — London cannot escape my beady food-eye.
When it comes to cake, I require somewhere a little special — quirky, but not so informal there is no importance to the day. A treat — but no so formal that you can't enjoy your cake in peace. So, nothing stringent then, you know? These seven cake baking wonders in London have all passed the taste, smell, and sense test and have been given the WanderLuce seal of approval. Enjoy, share and above all — let them eat cake!
Soho, Seven Dials & Old Street
Oh, how I love this place. It's bustling and busy, yet calming all at once and oh my, the cakes are to die for. Simple baked treats such as chocolate brownies and banana bread sit next to chia seed energy balls and vegan cheesecake. The wi-fi is fast, the space stylish and the cakes delicious.
West Kensington
This uber cute little vintage tea shop offers private dining for hen do's and gatherings, where you can go wild on the dressing up box and eat cake in a flapper outfit. The waitresses all have bright red lippy on, as do several of the customers too. Cakes are all homemade, and tea is served on vintage crockery. Although small, the space is comfortable and you never feel rushed.
Soho & Shoreditch
This Antipodean Cafe is, as you would imagine, all about the coffee. But don't write it off, as the Anzac cookies and Portuguese tarts are pretty darn yummy. With two East London branches, this is as you would imagine — unashamedly hipster.
Warren Street
Honey & Co is a cake shop with a difference. With it's Middle Eastern influence (Co-owner Itamar Srulovich was born & raised in Jerusalem) their cakes are oft overlooked. I guess it's because Honey & Co is actually a restaurant. A restaurant with cakes such as warm chestnut & whiskey cake…….mmmmmmm.
Ravenscourt Park
A personal fave of mine, this traditional and authentic Parisian bakery serves excellent cafe au lait, quiche, baguettes and, of course: Patisserie! With pastel coloured icing whirled into beautiful floral creations — these cakes are almost too pretty to eat. I said, almost……
Soho
I love this cake shop mostly for the name. I've always adored the word doilie, ever since I worked at an old people's home and it was uttered more often than I care to mention — " Lucy! remember to put the doilie on the flipping tray before you serve it to Mr Macintosh!".
All over the gaff
I know this is a chain, but I still think of this gorgeous place as the Brighton & hove stalwart it once was. I actually have two within a 15-minute radius…which is a little alarming, but nice all the same. They do a fantastic afternoon tea, and I've spent hours here quaffing earl grey from the industrial chic teapots.
So there you have it. Seven delicious cake-proffering eateries in London Town. Now, if you'll excuse me, I'm off to, ahem, eat an entire Victoria Sponge.
Want to follow Lucy? You can find her on Twitter,  Instagram, Pinterest and Facebook